Come to Germany!
Reading Institute provides an integrated course schedule of learning through exploration, scrutiny, and self-reflection. Our classes combine hands-on experience with knowledge-based teaching. Take a look at our offerings and contact Reading Institute to learn more, or download and submit your completed Application for Germany.
Discover language, culture and life in Germany
Are you a student? Come to Germany and earn 12 credit hours by learning the language, culture and history within a 3-month trip. Depending on your previous experience, you can choose either an introduction or an advanced language course. Both courses will go together to visit several hotspots in and around Germany on English guided tours. If you and your friends are on different language levels, you can still come and enjoy Germany together!
Be aware: You will never sit in an impersonal lecture hall by yourself. We'll take care of you and your individual needs. Our goal is that you have a great time with your studies in Germany!
 Semester of 12 credit hours includes the following courses:
Introduction to the German Language with Practicum OR Advanced German Language with Practicum, earning 6 credit hours
Culture and History of the Central States of Germany with Practicum, earning 6 credit hours
Cost of € 11,900 includes:
Tuition for the above courses in Altenberg, Germany
Airfare to and from Germany
Transportation to and from the Newark and Dresden airports
Lodging
Meals
Guided educational trips to the historical and cultural cities of Dresden, Leipzig, Eisenach, Weimar, Wittenberg, Berlin, Prague, and Vienna
What about time schedule?
We offer two semesters per year (non-overlapping)
A semester lasts 12 weeks
The exact starting time can be arranged with you and the other students, depending on your semester schedule
Application closing date is 6 months before the start of the semester
What will be waiting for me? 
We're going to Altenberg!
Altenberg is a town in eastern Germany, famous for its winter sports and tourism (A typical saying in the region: We live where others go on holiday). It's located in the Erzgebirge, a nice low mountain range up to 4000 ft, well-known around the world for its special popular art. You will live in an apartment with other students taking the language course.
From there we will go on local trips around the area, to Dresden, and other places in Saxony. We will also stay overnight in Berlin, Leipzig, Prague and Vienna.
The college courses will take place in the classroom of the modern church of Altenberg. Your teacher is a local bilingual native German speaker.
Our Tour Offerings
Listed below are all the tours we offer. Please keep in mind that not all the tours can be done in every semester – for example the typical German Christmas markets are only available in December. Furthermore some tours are dependent on the weather.
Tours in the region of Altenberg
in alphabetical order
Christmas Markets
The second name of the Erzgebirge is Land of Christmas. Celebrating the Christmas season with Christmas markets and parades is an important tradition in this region. As early as the Middle Ages, Christmas markets were held to supply the people with food and stores for the cold winter period. Very soon afterwards toy manufacturers, basket-makers and confectioners sold their products as presents for children and adults. In December you can find these Christmas markets in nearly every town.
Availability: End of November – December 23rd (dependent on the weather)

Website Striezelmarkt Dresden
(in German; for example, there are many Christmas markets in the area)
Holy Trinity Church, Schmiedeberg & George Bähr
The Frauenkirche in Dresden is a world renown church. Generally unknown is that George Bähr, the architect of the Frauenkirche, was born in a village near Altenberg. He designed a church in Schmiedeberg to test his unique architectural concept.
In this tour we will visit the "mini" Frauenkirche designed by George Bähr and learn more about his contributions to the region, to Dresden and to the world.
Availability: all year round
Erzgebirgian Folk Art
There were long periods of time when the miners could not work underground. Discover how many miners became toy makers!
Additionally, they created and manufactured wooden figures and symbols by combining mining, Christianity and candlelight. Today these carvings and figurines are decorations for all seasons, including the beloved Christmas decorations of smoker men (Räuchermännchen), Christmas pyramids and candle arches.
Availability: all year round, recommended in wintertime

Click here for example or here
© by FÜRSTdesign Sebastian Kaulfürst
Forestry Tour
The history of the Erzgebirge is centered around mining. In the mines, wood was used not only in construction and support of the tunnels, but also burned to heat the rock to help remove the ore. As forests were being cleared and wood became less easily available, the industry of mining was threatened. The practice of forestry, one of the first in the world, was developed to manage this sustainable resource.
In this tour we will be guided by a forester who will show and describe current forestry practices that impact the woodland environment and help us understand the forest.
Availability: May – October (dependent on the weather)
© by FÜRSTdesign Sebastian Kaulfürst
Geising Tour
Geising is one of the most beautiful towns in the Erzgebirge. Since it was not damaged by fire, the architecture and residental settlement remain unchanged since of the 16th century – giving Geising an old-world feel adding to the charm and appeal of this cozy town. Johann Schelle and Johann Kuhnau, two choirmasters of the famous St. Thomas Boys Choir in Leipzig were born in Geising.
Availability: all year round (dependent on the weather), recommended May – October

Website of Geising (in German)
Glashütte Watch Museum
Have you seen those elegant watches with tiny mechanisms, five-digit price tags, and only available in luxury stores? For 175 years fine watches were handmade in Glashütte, a small town nestled in a valley near Altenberg.
We will visit the Glashütte Watch Museum, taking in an overview of the history of watchmaking along with the present and future of local manufacturers producing high quality watches belonging to the most exclusive collections all over the world.
Availability: all year round

Website Watch Museum Glashütte
© by FÜRSTdesign Sebastian Kaulfürst
Herb Tour
The people living in the Erzgebirge were mostly poor miners. It was the women who learned the effectiveness of herbs for cooking and against ailments such as headaches, colds, and circulation problems, and either grew them in their gardens or collected them in the fields and forests.
Although the knowlegde of medicinal herbs is mostly lost, some people can be seen collecting herbs for good health. We will go on tour through the fields and forests learning about useful herbs and those to avoid from a local knowledgeable tour guide.
Availability: all year round (dependent on the weather), recommended May – October
© by FÜRSTdesign Sebastian Kaulfürst
Lauenstein Tour (Castle and Church)
Lauenstein, founded in the 12th century, is another beautiful old town which lies within the region of Altenberg. It was the administrative center of the mining industry. In 1594 a fire destroyed the whole city, castle and church. The Prince at the time had a deep faith in God and enough resources to rebuild the castle and church creating unique art out of sandstone in the Renaissance and Mannerism style.  
Availability: all year round

Website Schloss Lauenstein
Lauenstein Church (in German)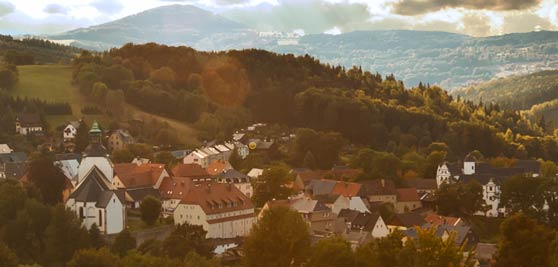 © by FÜRSTdesign Sebastian Kaulfürst
Mining Museum Altenberg
"Here there is no mountain without a tunnel in it!" The Erzgebirge, literally "ore mountains", were settled for the purpose of mining. Depending on the conditions of the rock and on the element to be extracted there are widely different methods of mining within a relatively small area. In this Museum you can discover the 600 year history of mining and processing tin in Altenberg, both underground and above ground.
Availability: all year round

Website Mining Museum Altenberg (will be renewed soon)
© by FÜRSTdesign Sebastian Kaulfürst
Mushroom Tour
Collecting mushrooms has been a longstanding tradition in the Erzgebirge and continues today with people and families going into the woods searching for Chanterelle, Champignon, Steinpilz and Honey Agaric. The mushrooms become a delicious dinner or a nice gift.
The knowledge to distinguish edible and harmful mushrooms passes from generation to generation. We will take a tour through the forest with an experienced guide, participating in the tradition of mushroom picking. 
Availability: August – October

Pinge Tour Altenberg
Literally translated, the name of the city of Altenberg is "the old mountain". For many years the mountain was mined without responsible management. In 1620 the mountain collapsed, leaving a large crater. Although the mining has stopped, the Pinge is closely monitored because it continues to grow gradually each year.
A guided tour will explain the history and details of the Pinge, offering a unique view of the platform at the edge of the crater.
Availability: May – October
© by FÜRSTdesign Sebastian Kaulfürst
Paul Haucke, Max Nacke & Anton Günther
Paul Haucke and Anton Günther were popular local poets, songwriters and folksingers from the Erzgebirge. As tourism expanded into the Erzgebirge they became famous. Their feelings for homeland, nature and everyday life were shared through poetry and song in the Erzgebirge dialect. Günther was the inventor of the song postcard, popularized in the late 1800's.
Availability: all year round

Hear a song by Anton Günther from 1899: De Uf'nbank (The bench around the stove; Erzgebirge dialect)
Saw Mill Museum, Herklotzmühle
Wood was always a necessary raw material for the people in the Erzgebirge as heating fuel and building material. Last but not least mining was unimaginable without wood. Many saw mills existed for long time periods, driven by water power.
At the Herklotzmühle you can experience how semi-automatic engineering worked in times past.
Availability: May – October

Website Herklotzmühle (in German)
Schellerhau Botanical Garden
This garden has more than 1,400 different plant species of the Erzgebirge and the middle and high mountains of Europe, North America and Asia. A local guide will accompany us in this idyllic area.
Availability: May – October (dependent on the weather)

Website Botanical Garden Schellerhau (in German)
Brochure
Wildpark Osterzgebirge
Situated near Altenberg is a small wildlife park, a favorite local attraction. There are deer, wild boar, and a petting zoo among other things. It is a pleasant walk while learning about fauna in the region.
Availability: all year round (dependent on the weather), recommended May – October

Website Wildpark Osterzgebirge (in German)
Zinnwald Tour
Each mine is different. This is also true of Zinnwald, literally "tin forest", a mining village located atop a ridge on the eastern border of Germany and the Czech Republic.
Underground is a network of mining tunnels more than 125 miles long. On a 1.6 mile tour we will be guided through small tunnels and large caves. A few caves are larger than some churches in the region.
Aboveground Zinnwald is a place of historical significance where conflicts not only between Catholics and Protestants took place, but also between the Soviet Union and Nazi Germany.
Availability: all year round

Website Besucherbergwerk Zinnwald (in German; will be renewed soon)
© by FÜRSTdesign Sebastian Kaulfürst